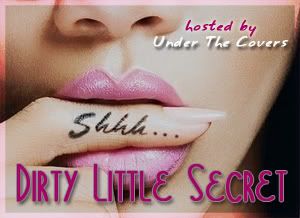 Dirty Little Secret is a weekly meme hosted by
Under the Covers
. Every Thursday we get to know other bloggers and our readers more intimately by asking them a question hoping to reveal their dirty little secrets. We hope that you will all join us!
To participate in the meme all you need to do is:
1. Be a follower of Under the Covers.
2. Create a post in your blog taking the meme image (code above) and copy instructions.
3. Answer the question we propose! This can be done in any way you like, post a video, write a post etc.
4. Then add your link below.
Non-bloggers: We want to hear from you as well!!! Let us know your answer in the comments!
We hope you join us and let us know your Dirty Little Secrets!
Which author introduced you to urban fantasy or paranormal romance?
Here's the name of my Goddess : Karen Marie Moning with The Highlander series: Beyond the Highland Mist!
I first lay my eyes on a strange cover in the bookshelf of my sister in-law in 2010. YES I only discovered this world in 2010! I took the book and read the blurb and was O.o
This book seem to mix everything I secretly dream about! I read the first chapter and I was a bit lost at first but then we meet the main characters! The Hawk and Adam Black.... :P
I totally fell in love with Ms Moning's writting style, creativity, imagination and most of all the way she's able to describe the sex scenes! GRRRR
You can stop by my 300 followers giveaway in the same time :P Click
here
to enter!